Wisteria Flower: Its Meanings & Symbolism
The pea family, Fabaceae, is full of purple blossoms ranging from tiny roadside weeds to massive trees. The wisteria is a member of this family that doubles as an attractive cut flower. As a symbol, the wisteria is also full of mystery and beauty. There's even a water growing version of the plant with similar meanings and symbolism. You'll certainly feel a deeper appreciation for this sweetly scented tree and vine flower once you learn more about what it means to cultures from around the world.
What Does the Wisteria Flower Mean?
Wisteria has been growing in the eastern US and Asia for centuries now, so it has accumulated plenty of contrasting and complementing meanings. Some people believe the wisteria symbolizes
Good luck, especially for the start of a business or a new marriage
Welcoming someone to a new town or home
Celebrating the youthful vitality of a young friend or child
Expressing your affections after meeting someone special for the first time
Serious devotion, whether it's to a cause or another person
New births and spring birthdays
Wisteria isn't a specific birth flower for any of the months, but many people associate it with March and April because it blooms during those months.
Etymological Meaning of the Wisteria Flower
The botanist who recorded the details of this interesting plant was also the once who influenced the wisteria flower meaning by naming it. He claimed to have named it after a fellow scientist named Dr. Wistar.
Symbolism of the Wisteria Flower
This flower is native to Asia, so naturally many of its meanings come from Chinese and Japanese culture. In China, this flower is commonly featured in art and plays involving marriage. Many people exchange the flowers as a good luck charm when planning a wedding. Since the vines and trees bloom in spring and early summer, it's a potent symbol of new life. This is why modern florists recommend it for both baby showers and business openings. A well-trimmed wisteria bonsai offers perfection in a tiny package, tapping into the meaning of devotion.
Wisteria Flower Color Meanings
The wild wisteria is almost always a light purple color, but recent crossbreeding allows you to enjoy a wider range of colors. Pick the right color meaning from options like
Pink for baby girls and blossoming feelings of love
White for weddings and good luck
Blue for auspicious beginnings to new ventures.
Do you want to have more success and joy in your life?
The best way to do this is by learning more about your name through numerology. It is a 4,000 year-old science that can help you learn the meaning of your name, because your name was no accident! All it takes is your name and date of birth,
click here to get your free personalized numerology reading.
Meaningful Botanical Characteristics of the Wisteria Flower
As a member of the pea family, the wisteria vine is a legume that actually improves the soil around it. However, it can also pull down trees and damage houses if it grows out of control. The sweet blossoms are edible and taste good, but don't eat cut flowers because they are often sprayed with pesticides to control insect damage as they grow. Some people cook the flowers down to make a jelly with a floral taste. The leaves make a slightly bitter tea, but don't use the bark, stem, or seeds of this plant.
Special Occasions for the Wisteria Flowers
Celebrate a new family member by sending in a bundle of blossoms, or give a blue wisteria as the "something blue" for the wedding tradition.
The Wisteria Flower's Message Is…
The Wisteria flower's message is let good luck make your adventures go a little smoother. Celebrate the new beginnings in life instead of focusing on the endings.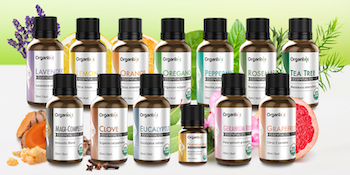 Do Your Essential Oils Pass the "Triple Purity Test"?
Discover How to Protect Yourself and Your Family from the 4 Shocking Ingredients Lurking in Most Oils. The essential oils that are in your home right now could be doing more harm than good. As you're about to find out, it's a chance you probably don't want to take.
Here's Why:
New research shows all essential oils are NOT the same. Believing that they are could deliver very negative consequences. Even worse, the less-than-pure ingredients being found in some oils could completely eliminate their health benefits altogether and could even leave you worse off than when you started!
>>Click Here To Learn More And Find Out About Organixx Essential Oils