Jasmine is a popular flower associated with love and romance. Its showy white blooms and heavenly fragrance are ideal for moon gardens where lovers spend time whispering sweet nothings under the stars. As a cut flower, it fills the home with a relaxing scent perfect for drifting off to sleep. Some gardeners prefer to plant jasmine outside the bedroom window to allow its fragrance to drift in on the night air.
What Does the Jasmine Flower Mean?
The jasmine flower is associated with love.
Jasmine also symbolizes beauty and sensuality.
In some cultures, Jasmine represents appreciation and good luck.
When used in religious ceremonies jasmine represents purity.
Jasmine's meanings varies depending on the culture and setting.
Etymological Meaning of the Jasmine Flower
Jasmine belongs to the Genus 'Jasminum' and includes over 200 species of plants, most of which originated in tropical and sub-tropical areas. Its name comes from the Persian word 'yasmin' meaning gift from God.
Symbolism of the Jasmine Flower
Jasmine is the national flower of Pakistan. Both the bride and groom wear garlands of white jasmine and red roses on their wedding day. Floral bouquets of jasmine and roses are also used to celebrate special occasions, and in burial garlands meaning a final farewell.
In the Philippines, garlands of jasmine adorn the participants in religious ceremonies while Indonesians don jasmine for wedding ceremonies. In Thailand, jasmine is the symbol for mother and portrays love and respect. In the United States, jasmine symbolizes beauty, love and romance.
The Jasmine Flower Facts
Jasmine originated in the tropical regions of Asia but is now grown worldwide. While tropical Jasmine will not survive in temperate regions, some modern cultivars do. Cultivated versions are also sold as houseplants. Many gardeners add jasmine to flower gardens or grow them in pots on the deck or patio to scent the night air.
Do you want to have more success and joy in your life?
The best way to do this is by learning more about your name through numerology. It is a 4,000 year-old science that can help you learn the meaning of your name, because your name was no accident! All it takes is your name and date of birth,
click here to get your free personalized numerology reading.
Most species of jasmine produce highly-fragrant, white flowers, but some species produce yellow or pink blooms and some even lack fragrance. Common jasmine grows on a bush or small shrub while some varieties produce vines. Common Jasmine (Jasminum officinale) is used for extracting fragrance for perfumes and lotions or making essential oils.
According to legend, a Tuscan gardener received a jasmine plant from Persian traders and planted it in his private garden. He refused to let anyone cut the flowers from his garden. One day, he presented a branch of the jasmine flowers to his beloved. She was so taken by the fragrance she agreed to marry him – thus began the Tuscan tradition of including jasmine in the bridal bouquet.
Meaningful Botanical Characteristics of the Jasmine Flower
Jasmine is used as a fragrance in perfumes, soaps and lotions and is even used to add its heady scent to jasmine tea. Contrary to popular belief, jasmine tea isn't really made from jasmine. The tea is brewed from green tea, and then infused with the fragrance of jasmine. To make the tea, jasmine buds are gathered during the day and added to the brewed tea at night, as the buds begin to open and release their fragrance. It can take up to six hours to infuse the tea with the scent of jasmine. It is important to note that jasmine flowers and foliage are not edible and should not be brewed for tea.
Jasmine flower buds are used medicinally to treat eye and skin diseases while the leaves are used to treat breast tumors. Essential oils made from the blossoms, used in both aromatherapy and spiritual ceremonies, evoke wisdom and invoke peace and relaxation. Jasmine is believed to be both an antidepressant and an aphrodisiac making it suitable to scent the bedroom. Jasmine is also thought to be a sedative and sleep aid.
The Jasmine Flower's Message Is
The jasmine flower's message is mysteriously complex and means different things in different settings. Its pristine beauty and heady fragrance speaks of love and evokes positive feelings. Whether you choose to grow jasmine in the garden, or prefer a long bath infused with the fragrance of jasmine, its scent will renew the spirit and leave you feeling warm and sensual.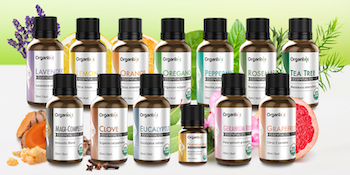 Do Your Essential Oils Pass the "Triple Purity Test"?
Discover How to Protect Yourself and Your Family from the 4 Shocking Ingredients Lurking in Most Oils. The essential oils that are in your home right now could be doing more harm than good. As you're about to find out, it's a chance you probably don't want to take.
Here's Why:
New research shows all essential oils are NOT the same. Believing that they are could deliver very negative consequences. Even worse, the less-than-pure ingredients being found in some oils could completely eliminate their health benefits altogether and could even leave you worse off than when you started!
>>Click Here To Learn More And Find Out About Organixx Essential Oils