The Camellia flower: Its Meanings and Symbolism
Nothing says spring quite like camellias in bloom. These evergreen shrubs produce an abundance of showy flowers measuring up to 5 to 6 inches in diameter in late winter or early spring. Colors range from white, yellow and pink to reds and purples with plenty of variations in between. Camellias make a dramatic display inside the home, especially when you include a few of their glossy green leaves.
What Does the Camellia Flower Mean?
The camellia flower speaks to the heart and expresses positive feelings. It's most common meanings are:
Desire or Passion
Refinement
Perfection & Excellence
Faithfulness & Longevity
Etymological Meaning of the Camellia Flower
Like many flowers, camellia is both the common and scientific name for these showy flowers. They were named after Father Georg Joseph Kamel when the father of taxonomy, Carl Linnaeus standardized plant names in 1753. Ironically, Kamel was a botanist, but he did not work on camellias himself.
Symbolism of the Camellia Flower
The camellia flower has enjoyed a rich history, including its reported inclusion in the secret gardens of Chinese Emperors.
China – The camellia flower is highly regarded in China and is even considered the national flower of southern China. The camellia flower symbolizes young sons and daughters.
Japan – In Japan the camellia flower is called "Tsubaki" and symbolizes the divine. It is often used in religious and sacred ceremonies. It also represents the coming of spring.
Korea – In Korea the camellias flowers is a symbol of faithfulness and longevity. They have been part of traditional Korean wedding ceremonies since 1200 B.C.
Victorian England – In Victorian England the camellia bloom sent the secret message that the recipient was adorable.
United States – The camellia flower is the state flower for Alabama and typically represents southern beauty.
The Camellia Flower Facts
The camellia flower in native to Japan ad China and has been part of their cultures for thousands of years. In fact, the Chinese were cultivating camellias by 2737 B.C. These flowers did not reach Europe until the mid-1700s, and made their way to North America shortly before the turn of the century.
The evergreen shrubs produce an abundance of colorful blooms against dark green foliage. The shrubs typically reach heights of 5 to 15 feet, but can grow to heights of 20 feet or more if not trimmed regularly. The blooms resemble that of a rose, and can be either single or double blooms.
Do you want to have more success and joy in your life?
The best way to do this is by learning more about your name through numerology. It is a 4,000 year-old science that can help you learn the meaning of your name, because your name was no accident! All it takes is your name and date of birth,
click here to get your free personalized numerology reading.
Camellia Flower Color Meanings
What a camellia flower means depends in part on its color. Here are the common color meanings for camellia flowers.
White – White camellias mean several things. They can mean purity, the love between mother and child or mourning when used in funeral flowers. When presented to a man, a white camellia is thought to bring luck.
Pink – Pink camellias symbolize longing.
Red – Red camellias symbolize passion or desire.
Red and Pink – Combing red and pink camellias expresses romantic love.
Meaningful Botanical Characteristics of the Camellia Flower
While camellias are typically ornamental in the United States, they have other valuable uses.
Camellia sinensis is used to make camellia tea. According to legend, the tea was discovered when an early Chinese emperor ordered all the water in the land to be boiled before drinking to prevent disease. Some dried camellia leaves fell in his cup and began to steep. He was so taken by the flavor that camellia tea was born.
Other varieties of camellias are used in Chinese herbal remedies to treat bacterial infections, heart disease and asthma.
Tea oil made from some varieties of camellia plants is used as a cooking oil in China.
Camellia oil is also used to sharpen knives and other cutting blades.
The Camellia Flower's Message Is:
The camellia flower's message is one of love and positive thoughts. There are plenty of colors available for you to mix and match in style to send just the right message to the one you love.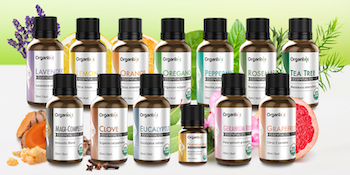 Do Your Essential Oils Pass the "Triple Purity Test"?
Discover How to Protect Yourself and Your Family from the 4 Shocking Ingredients Lurking in Most Oils. The essential oils that are in your home right now could be doing more harm than good. As you're about to find out, it's a chance you probably don't want to take.
Here's Why:
New research shows all essential oils are NOT the same. Believing that they are could deliver very negative consequences. Even worse, the less-than-pure ingredients being found in some oils could completely eliminate their health benefits altogether and could even leave you worse off than when you started!
>>Click Here To Learn More And Find Out About Organixx Essential Oils