Flowers can brighten up your day and let your loved one you're thinking about them. However, sending a bouquet fit for a funeral to a potential love interest can sink you budding relationship before it ever gets a chance to bloom. Set the right tone for romance, familial love, or just friendship by putting together some cheerful pink flowers based on their shared color meanings.
The Most Popular Pink Flowers
Hundreds of flowers sold in floral shops come in pink varieties, but arrangers tend to stick to the basics when designing romantic or affectionate bouquets. Some of the most widely used pink blossoms include:
Pink rose buds and blossoms, a symbol of adoration, gratitude, and respect
Bright magenta tulip blooms, which symbolize life and the passion for living it
Soft pink hyacinths, indicating a playful and joyous message when sent to the right person
Pink lily flowers of all kinds, ranging from the showy Stargazer with its message of resurrection to the timid Asiatic varieties with their meanings of modesty and intelligence.
Of course, most white flowers can also be tinged pink to order nowadays with the application of the right dye.
Pink in the Victorian Language of Flowers
The love of soft and gentle pink didn't start in the modern age, but rather in the time of the Victorian era. This period included the major expansion of an educated middle class for the first time, so naturally all those ladies and gentlemen turned to flowers for expressing themselves when words were too bold. Pink camellias were a good way to tell someone you were longing for them. If you were leaving on a trip and would not return to see your love for many years, you could hand them a rosy carnation as a sign that you wouldn't forget them. In contrast, the pink larkspur was a sign of foolishness and fleeting fancies.
Significance in Asian Cultures
Some of the most iconic pink flowers come from Asia and hold special meanings in Eastern cultures. For example, the cherry blossom represents the country of Japan as a whole, but also ties into purity, freshness, and the eternal cycle of life. Other important Asian flowers with a pink hue include:
The pink lotus flower, which represents the Buddha and his work to free humanity from suffering
Warm toned azalea blossoms, a symbol of femininity and the role of caring mothers
Pink chrysanthemums, which are still linked to funerals and the afterlife despite the cheerful color.
Do you want to have more success and joy in your life?
The best way to do this is by learning more about your name through numerology. It is a 4,000 year-old science that can help you learn the meaning of your name, because your name was no accident! All it takes is your name and date of birth,
click here to get your free personalized numerology reading.
Romantic Meanings for Valentine's Day
If you're mainly concerned about sending the right message for your anniversary or engagement bouquet, stick with the pink and light red flowers most strongly associated with romance. Roses, tulips, and peonies all fit the bill because of the luminous petals. Big bunches of pink hydrangeas also create a lovely cloud of sweetness and appreciation, while pink daisies are more appropriate for new relationships and young love.
Celebrating Other Events with Color
You're not limited to just using pink flowers for romantic holidays and occasions. Trying to thank a friend or co-worker for helping you out in a tight spot? Hyacinths and roses in this color communicate a message of gratitude. If you're trying to put together a sympathy bouquet for someone who appreciates bright colors, the funerary associations of the pink chrysanthemum makes it the perfect choice. Pink flowers also make the perfect gift for anyone who appreciates the uplifting effect of bright colors. Don't feel too limited by the meanings of the blossoms when putting together a bouquet or vase arrangement.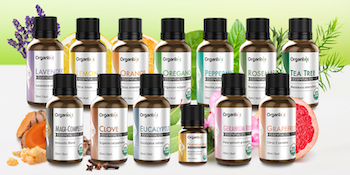 Do Your Essential Oils Pass the "Triple Purity Test"?
Discover How to Protect Yourself and Your Family from the 4 Shocking Ingredients Lurking in Most Oils. The essential oils that are in your home right now could be doing more harm than good. As you're about to find out, it's a chance you probably don't want to take.
Here's Why:
New research shows all essential oils are NOT the same. Believing that they are could deliver very negative consequences. Even worse, the less-than-pure ingredients being found in some oils could completely eliminate their health benefits altogether and could even leave you worse off than when you started!
>>Click Here To Learn More And Find Out About Organixx Essential Oils