Lily Flower Meanings & Symbolism
Unlike most other flowers, the perennial Lily never truly goes dormant. The strength and beauty of this international flower has cemented its place in the cultures of the world. With such an elegant look, it's no wonder the flower means royalty, rebirth, and purity. Explore this potent flower symbol to enrich your own life.
What Does the Lily Flower Mean?
The Lily flower, in all its various forms, is commonly considered to mean:
royalty and regal bearing
motherhood and fertility
purity and the beauty of youth
passion and drive
renewal and rebirth
Etymological Meaning of the Lily Flower
There are hundreds of different true lilies, but they all fall under the same Lilium genus. Any flowers called lilies that don't fit in this organizational group, such as the common day lily or water lily, are not considered a true Lily. Lilium is a Latin term and was derived from the Greek term leirion, a word that traces back through numerous civilizations to one of the first words for flower. This shows the importance of the Lily flower through the centuries and millenia!
Symbolism of the Lily Flower
Both the Greeks and Romans held the Lily in very high regard, including it in dozens of their religious myths and breeding the plants extensively. Alchemists considered it a lunar plant with feminine qualities, while the Lily is in high demand in China for weddings because its name sounds like the start of a phrase wishing the couple a happy union for a century. Chinese friends and family members also give the flower to people who have experienced a recent loss because it is believed to help relieve heartache. Don't forget about that enduring sign of European royalty known as the fleur de lis. Now commonly found on silverware and wallpaper, that stylized floral design symbolizes a regal bearing and was loosely based on a member of the Lily family.
The Lily Flower Facts
Lilies are native all over the world and hold importance in dozens of different cultures. This led to early breeding programs, resulting in the thousands of different colors and petal patterns you can find today. All lilies emerge from a humble bulb, and they're one of the few showy flowering plants that can handle indoor life just as well as outdoor growing. Most named varieties of this flower are hybrids and won't grow true from seed, but old-fashioned and heirloom lilies produce true seed you can share with loved ones and friends to spread the beauty around.
Do you want to have more success and joy in your life?
The best way to do this is by learning more about your name through numerology. It is a 4,000 year-old science that can help you learn the meaning of your name, because your name was no accident! All it takes is your name and date of birth,
click here to get your free personalized numerology reading.
Lily Flower Color Meanings
White lilies are an obvious symbol of purity, especially since many Christian denominations use the snowy Madonna Lily to represent the Virgin Mary. The striped pink flower known as the Stargazer Lily is one of the most popular flowers for bouquets today, and it means ambition and encouragement with a difficult challenge. Yellow and gold lilies most commonly symbolize good health and healing, while bright red blooms speaks of passion and work great for weddings and proposal bouquets.
Meaningful Botanical Characteristics of the Lily Flower
Many Asian varieties of Lily are used for food, usually by harvesting the bulbs and using them in place of potatoes or water chestnuts. Other lilies are harvested for medicinal use instead. Chinese Traditional Medicine considers many different Lily varieties to produce a cooling, soothing effect on the body. Medieval medicine in Europe call for using the mashed roots of the Madonna Lily for shrinking tumors, healing skin ulcers, and soothing sore tendons. Since only some varieties of Lily are safe to eat or take as medicine, it's best to purchase your products from a trusted source instead of heading out to the garden to dig your own flowers up.
The Lily Flower's Message Is…
Take a regal stance and embrace your own power. Remember that renewal is just around the corner and that the end of one thing heralds the beginning of another.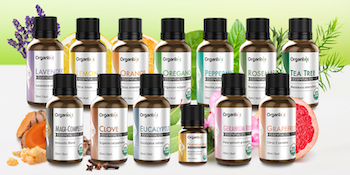 Do Your Essential Oils Pass the "Triple Purity Test"?
Discover How to Protect Yourself and Your Family from the 4 Shocking Ingredients Lurking in Most Oils. The essential oils that are in your home right now could be doing more harm than good. As you're about to find out, it's a chance you probably don't want to take.
Here's Why:
New research shows all essential oils are NOT the same. Believing that they are could deliver very negative consequences. Even worse, the less-than-pure ingredients being found in some oils could completely eliminate their health benefits altogether and could even leave you worse off than when you started!
>>Click Here To Learn More And Find Out About Organixx Essential Oils