Periwinkle Flower: Its Meanings & Symbolism
It's easy to miss the Periwinkle flower and simply step over it. The diminutive bloom is easily hidden under a layer of leaf litter or larger foliage. If you're growing the plant or want to send it as a gift to a loved one, consider what it symbolizes first. This small purple flower is surprisingly meaningful.
What Does the Periwinkle Flower Mean?
The common Periwinkle evokes feelings of
Blossoming friendship that is still in its first stages
Reminiscing about pleasant memories shared with a friend or relative
Reaching your full potential and achieving your dreams
Existence throughout eternity, and extending your time with what you love
Everlasting love
The purity and strength of the Virgin Mary.
Etymological Meaning of the Periwinkle Flower
The Periwinkle has been a part of European history for thousands of years, so it's only natural that the name comes from Latin through Old and Middle English. The flower was once called pervinca by the Romans, which slowly involved into the flower's current name over the centuries.
Symbolism of the Periwinkle Flower
The Periwinkle was a potent religious symbol tied to the Virgin Mary in the Middle Ages, so it's not uncommon to see the little purple blossom peeking out of a stained glass window. Victorian flower language users assigned it the meaning of a beautifully blossoming friendship. It also means sharing the recollection of a pleasant memory from the past. In the Ukraine, it's tied to folklore about love that lasts through the eternity. It's given as a gift to newlyweds to wish them a long marriage, but it's even used around candles in the hopes that they'll last longer.
The Periwinkle Flower Facts
The Periwinkle, also known as Vinca by its scientific name, features a star-shaped light blue or lavender flower. Some varieties are white or slightly pink. It's commonly used as a bedding plant because it spreads quickly across the ground to form a low growing green layer that doesn't need mowing or pruning.
Do you want to have more success and joy in your life?
The best way to do this is by learning more about your name through numerology. It is a 4,000 year-old science that can help you learn the meaning of your name, because your name was no accident! All it takes is your name and date of birth,
click here to get your free personalized numerology reading.
Periwinkle Flower Color Meaning
The plant's meaning does vary based on the color of the petals. While this plant isn't a birth flower, you can still match the flower to a person based on characteristics like:
White flowers being linked to memories and long lasting love
Light blue symbolizing purity and the beginning of a friendship you want to last
Other colors for cheering up loved ones feeling a little down.
Meaningful Botanical Characteristics of the Periwinkle Flower
The Periwinkle is a little too poisonous to use safely as an herb, while some people do take the risk and rely on it as an herbal supplement. It is being researched as a potential cancer treatment, but it has the potential to cause serious liver and kidney damage even on rare occasions, so stick with using it as a decoration.
The Periwinkle Flower's Message Is…
Reach out to make new friendships while remembering the past fondly. Hold on to the things you cherish for as long as possible.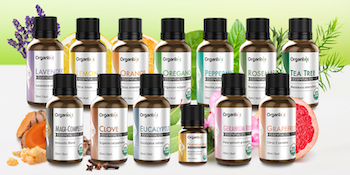 Do Your Essential Oils Pass the "Triple Purity Test"?
Discover How to Protect Yourself and Your Family from the 4 Shocking Ingredients Lurking in Most Oils. The essential oils that are in your home right now could be doing more harm than good. As you're about to find out, it's a chance you probably don't want to take.
Here's Why:
New research shows all essential oils are NOT the same. Believing that they are could deliver very negative consequences. Even worse, the less-than-pure ingredients being found in some oils could completely eliminate their health benefits altogether and could even leave you worse off than when you started!
>>Click Here To Learn More And Find Out About Organixx Essential Oils