The Chrysanthemum Flower, its Meanings and Symbolism
Also known as the mum, the Chrysanthemum is a common bedding plant used in landscaping projects around the home or business. Yet it's also one of the most important cut flowers used for bouquets and boutonnieres today. How did such a humble seeming flower rise to such importance? Explore the symbolism and meaning behind the petals to find out.
What Does the Chrysanthemum Flower Mean?
As a bloom of great importance, the Chrysanthemum symbolizes concepts like:
Lasting friendship and non-romantic affection
Support from your family and loved ones
Cheerfulness and good spirits, including cheering up a sad person
Rest and recovery after a long trial or challenge
Enduring life and rebirth, especially the birth of a child
Loyalty and devotion, both romantic and platonic
Etymological Meaning of the Chrysanthemum Flower
It's surprisingly easy to remember the scientific name for this flower because it's Chrysanthemum, the same as the common name for gardening varieties. However, the exhibition varieties used by florists and arrangers were divided into their own genus known as Dendranthema. The mums in your yard are likely part of the Chrysanthemum group, while the bouquet sent by the florist contains all or mostly Dendranthema flowers. Aside from small Latin differences, all Chrysanthemums share a common Greek source for their name. The words Chrysos, meaning gold, and Anthemon, meaning flower, were combined to reflect the beauty and value of this blossom. This name carries over the Chinese and Japanese translations, which literally mean gold flower or blossom as well. Even though there are dozens of other colors beyond gold now, the classic warm yellow or orange mum is still the most popular bedding flower for landscaping in the U.S.
Symbolism of the Chrysanthemum Flower
As November's official flower of the month, the Chrysanthemum brings us the message that even the beginning of winter can have joy and beauty. It's also the traditional flower of choice for Mother's Day gifts in Australia. The Victorians considered it strictly a flower of friendship and well-wishing for people in need of rest, so deep red Chrysanthemum of passion were rarely passed around in that society. The Chrysanthemum is also the flower representing the royal family of the Emperor in Japan. Floral specialists in the U.S. generally consider that the Chrysanthemum means cheerfulness and positivity, but in New Orleans it is only used for All Saints Day celebrations and has become a symbol of the honored dead in that city. It's called one of the Four Gentlemen in Chinese culture, which reflects the flower's importance as a symbol in artwork.
Do you want to have more success and joy in your life?
The best way to do this is by learning more about your name through numerology. It is a 4,000 year-old science that can help you learn the meaning of your name, because your name was no accident! All it takes is your name and date of birth,
click here to get your free personalized numerology reading.
The Chrysanthemum Flower Facts
As with many flowers used for floral arranging, the Chrysanthemum was first cultivated from wild blossoms by the Chinese. The first breeding efforts date back to the 15th century. They've been a part of landscaping in the U.S. since importation in 1798. Some varieties sport daisy-style blooms with a single row of petals around a central core, while others are so ruffled and doubled they look like pom-poms instead and obscure the core. Both garden and exhibition plants are surprisingly tough, allowing arrangers to create unusual topiary designs with the living plants.
Meaningful Botanical Characteristics of the Chrysanthemum Flower
The Chrysanthemum is far more versatile than many other decorative flowers. While they don't provide a very strong smell when growing, there's a delicate and sweet aroma released when certain types are used for food. Chinese cooks add the blooms to soups and stir fries that need a hint of floral to balance out more strongly flavored or musky ingredients. The greens are also used for brightening up salads and fried dishes. You can try your hand at making your own sweetly scented Chrysanthemum tea if you have access to flowers that were never treated with pesticides. Speaking of pesticides, organic pyrethins are extracted from this plant to keep bugs away from people, pets, and plants. NASA studies even found potted Chrysanthemums improve air quality!
The Chrysanthemum Flower's Message Is…
Support your friends with loyalty and love, especially when they're facing an obstacle or recovering from a life-changing event. Remember to honor the cycle of life, both at its end and with new beginnings.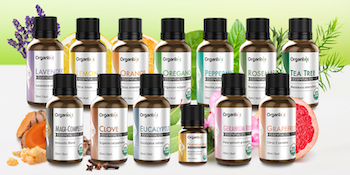 Do Your Essential Oils Pass the "Triple Purity Test"?
Discover How to Protect Yourself and Your Family from the 4 Shocking Ingredients Lurking in Most Oils. The essential oils that are in your home right now could be doing more harm than good. As you're about to find out, it's a chance you probably don't want to take.
Here's Why:
New research shows all essential oils are NOT the same. Believing that they are could deliver very negative consequences. Even worse, the less-than-pure ingredients being found in some oils could completely eliminate their health benefits altogether and could even leave you worse off than when you started!
>>Click Here To Learn More And Find Out About Organixx Essential Oils