The Heather Flower: It's Meaning & Symbolism
The heather flower is an evergreen flowering shrub with hundreds of bell shaped flowers up and down it's spike like stems. Originally from Europe and some parts of Asia, this is an ancient flower with most associations closely held in Scotland but also grows wild in Mexico. Heather is found under the l genus calluna under the ericaceae family.
Not surprisingly this hardy little flower has come to symbolize independence. From the rocky hills and moors that it grown on, it has developed into a self sufficient flower worthy of all of it's accolades.
What Does the Heather Flower Mean
The heather flower's meanings goes as far back as Celtic and pre-Celtic times. But, it has always had a few straightforward meanings including:
Independence
Good fortune
Good luck
Victorian meanings:

Purple equals beauty or worthy of admiration
White equals luck/protection or fulfillment of a dream
Etymological Meaning of the Heather Flower
The word heather actually is derived from the word hather which is middle english and means an open land covered with heather and or moss. This land can be hilly and rocky which is exactly where heather is happiest. The independent nature of heather was honed in the highlands and moors of Scotland. No wonder it grew so sturdy! The name hather was later changed into the word heather for heath.
Symbolism of the Heather Flower
The symbolism of the heather plant is rich and steeped in history. Growing on the windy hills of Scotland, the white wild heather has come to symbolize protection. Early in the history of Scotland, there were many wars of competing factions. Throughout these battles of position and power, white heather was worn as an amulet of protection. It was thought that the red and pink heathers were stained with blood. Nobody wanted to invite bloodshed into their life, so these colors of heathers would not be carried into battle. Scottish legend also says that no white heather will ever grow where blood has been shed. One of the sweetest legends of Scottish folklore is that white heather only grows where fairies have been.
The most well known legend of white heather is that in the 3rd century A.D., a young maiden named Malvina, daughter of the poet Ossian was to be married to her true love Oscar. Oscar, a warrior, never came home. Killed in battle, a messenger was sent to to deliver the horrible news. The messenger delivered the horrible news with a spray of burgundy heather. Malvina was inconsolable upon hearing the news of her true love's death. Wondering among moors and mossy hills, she shed futile tears. Legend says that as her tears fell upon the heather it turned the purple flowers into white ones. Instead of drowning in bitterness, Malvina decided right then and there that anyone who came across a white heather would be blessed with good fortune for all of their days.
Do you want to have more success and joy in your life?
The best way to do this is by learning more about your name through numerology. It is a 4,000 year-old science that can help you learn the meaning of your name, because your name was no accident! All it takes is your name and date of birth,
click here to get your free personalized numerology reading.
Heather Flower Color Meanings
Color meaning includes two main colors:
white means luck and protection
purple means beauty or admiration of a person
​Meaningful Botanical Characteristic of the Heather Flower
Has anti-microbial properties
Antiseptic
Anti-inflammatory – astringent or clearing quality to it
Anti-rheumatic
Diuretic – used to treat cystitis
Also grows wild in Mexico and is used to treat cancer – the Spanish name is Cancerina or Chanclana or Alcancer
The Heather Flower Interesting Facts
Stems and leaves were used to stuff mattresses and induce sleep with their slightly minty fragrance
Stalks of this plant were used to create musical instruments, this symbolizes how the heather flower was integrated into daily life
The stems were used to make aromatic brooms – sweep your house and make it smell good at the same time – ingenious!
Offer the Heather Flower on These Occasions
I would offer a dried heather wreath of white (for protection) and red or purple heathers to invite vitality into the home.
The Heather Flower's Message Is:
I am the symbol of good fortune. Find a place in your garden for me and I will fill your home with vitality and energy.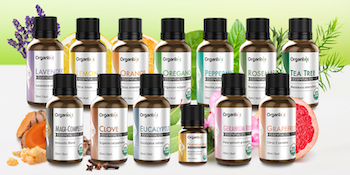 Do Your Essential Oils Pass the "Triple Purity Test"?
Discover How to Protect Yourself and Your Family from the 4 Shocking Ingredients Lurking in Most Oils. The essential oils that are in your home right now could be doing more harm than good. As you're about to find out, it's a chance you probably don't want to take.
Here's Why:
New research shows all essential oils are NOT the same. Believing that they are could deliver very negative consequences. Even worse, the less-than-pure ingredients being found in some oils could completely eliminate their health benefits altogether and could even leave you worse off than when you started!
>>Click Here To Learn More And Find Out About Organixx Essential Oils