Eustoma Flower: Its Meanings & Symbolism
Not all of the most beautiful flowers in the floral arrangement palette come from exotic and far off locations. Some of them, such as the Eustoma or Stock flower, are common to the United States and grow in humble spots like ditches and empty fields. Despite that commonality, this flower is an eye-catching bloom that can stand out among other tropical beauties. Aside from being easy to grow and beautiful, the Eustoma also features a rich background history of symbolism you can still use today.
What Does the Eustoma Flower Mean?
The Eustoma is a potent symbol with primarily modern meanings. This blossom means
A long and happy life
Contentment and peace with what you already have
Appreciation for peace and joy in your life
Heartfelt emotions towards someone else
Friendliness and congeniality
Portraying an air of charisma and charm
Admiration for a supportive or loving friend
Sweetness and kindness towards others and yourself
The desire to be more outgoing.
Etymological Meaning of the Eustoma Flower
The Eustoma flower takes its name from ancient Greece, where the flower was popular as a love charm. The name comes from two parts — first, the eu, which is a prefix that symbolizes goodness. Stoma is the second part of the name and it means mouth, so the flower is really called a good mouth. Other common names for this flower include Stock, Gillyflower, and Virginia gilly.
Symbolism of the Eustoma Flower
The Eustoma flower meaning list begins with a general feeling of happiness and joy. It's the perfect flower for using in wedding, birthday, and party bouquets for this reason. Aside from joy, you can also use this flower to symbolize contentment, peace, and love for other people. There's also a touch of social power to this bloom as well. It's ideal for convincing someone that you're charismatic or recognizing the social skills of other people.
Eustoma Flower Color Meanings
Of course, the color meaning varies greatly. Deep purple is a very common color for Stock flowers, and it's ideal for formal ceremonies like weddings. Yellow Eustomas provide the strongest message of joy and happiness, while orange and white blossoms work wonderfully as gifts for friends. Green petals symbolize money and wealth as well.
Do you want to have more success and joy in your life?
The best way to do this is by learning more about your name through numerology. It is a 4,000 year-old science that can help you learn the meaning of your name, because your name was no accident! All it takes is your name and date of birth,
click here to get your free personalized numerology reading.
Meaningful Botanical Characteristics of the Eustoma Flower
Eustoma flowers aren't useful for eating or using medicinally, but they still make great decorative plants for flower beds around your home. It's easy to find both annual and perennial versions at local nurseries in a wide range of colors, petal arrangements, and blooming patterns.
Special Occasions for the Eustoma Flowers
Grab a small bouquet of Eustoma when you're ready to celebrate the love you have for a friend or as a birth flower. Of course, the red and pink varieties also work for deep affection on a romantic level. It's also a nice gift to give after someone uses their social skills to earn a promotion or get a new job.
The Eustoma Flower's Message Is…
Focus on what you already have that brings you joy. Build up your social skills to gain more power in the world around you without taking advantage of others, and create strong bonds with those that you love.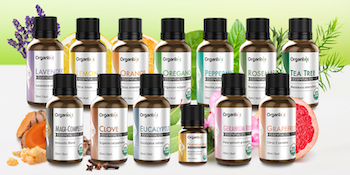 Do Your Essential Oils Pass the "Triple Purity Test"?
Discover How to Protect Yourself and Your Family from the 4 Shocking Ingredients Lurking in Most Oils. The essential oils that are in your home right now could be doing more harm than good. As you're about to find out, it's a chance you probably don't want to take.
Here's Why:
New research shows all essential oils are NOT the same. Believing that they are could deliver very negative consequences. Even worse, the less-than-pure ingredients being found in some oils could completely eliminate their health benefits altogether and could even leave you worse off than when you started!
>>Click Here To Learn More And Find Out About Organixx Essential Oils