Star of Bethlehem Flower: Its Meanings & Symbolism
The Star of Bethlehem plant is a spring and summer blooming bulb that produces star-shaped flowers on grass-like foliage. Native to the Mediterranean region, the Stars of Bethlehem flower grows wild across the countryside, blanketing the area with white. While they can be grown in flower beds, they are invasive and will quickly take over the bed. If you choose to grow your own Star of Bethlehem flowers, try growing them in containers to keep them under control.
What Does the Star of Bethlehem Flower Mean?
The Star of Bethlehem flower is associated with the birth of Christ and symbolizes the traits of Jesus.
Innocence
Purity
Honesty
Hope
Forgiveness
It is often used in religious ceremonies as a symbol of the Christ Child, but it can be used for other occasions, too.
Etymological Meaning of the Star of Bethlehem Flower
The Star of Bethlehem (Ornithogalum umbellatum) is a member of the hyacinthaceae family and is related to garlic and onions. It has several common names, such as Arabian flowers, field onions, wonder flowers, and dove's dung.
Origin of its Scientific Name: It is thought to be the flower bulbs referred to as "Dove's Dung" in the Bible and to have derived its name from the Greek word ornithogalum meaning "bird's milk flower". But its common name has another intriguing origin.
Legend of the Star of Bethlehem Flower: According to this legend, God created the Star of Bethlehem to guide the wise men to the Christ Child. Once the star's purpose was completed, God thought it was too beautiful to banish from the earth. Instead, the brilliant star burst into thousands of pieces and descended to the earth. The bits of the Star of Bethlehem gave birth to beautiful white flowers that blanketed the hillsides. They became known as the Star of Bethlehem flower.
Symbolism of the Star of Bethlehem Flower
The Star of Bethlehem flower is steeped in Christian symbolism, from its supposed Biblical reference to the Christian legend that gave it its name. It is often used in floral bouquets and arrangements for Christian ceremonies, such as christenings, baptisms and Christian marriages or funeral services. But it is used in secular weddings and celebrations too.
Do you want to have more success and joy in your life?
The best way to do this is by learning more about your name through numerology. It is a 4,000 year-old science that can help you learn the meaning of your name, because your name was no accident! All it takes is your name and date of birth,
click here to get your free personalized numerology reading.
Star of Bethlehem Flower Color Meanings
The Star of Bethlehem flower meaning comes both from its religious significance and the meaning of all white flowers. As a white flower it means:
Purity
Innocence
Truth
Honesty
Meaningful Botanical Characteristics of the Star of Bethlehem Flower
Historically, the bulbs of the Star of Bethlehem flower have been boiled and eaten much like potatoes and continue to be eaten in some locations. The ancients ate Star of Bethlehem bulbs raw or cooked and even dried them to eat on pilgrimages and journeys. According to Web MD, the Star of Bethlehem has reportedly been used to relieve lung congestion, improve heart function and as a diuretic, but there is not enough scientific evidence to support these claims.
Special Occasions for the Star of Bethlehem Flowers
The Star of Bethlehem flower is appropriate in nearly any floral arrangement from weddings and christenings to birthdays and anniversaries.
The Star of Bethlehem Flower's Message Is…

The Star of Bethlehem flower's message carries with it hope for the future, innocence, purity, trust and honesty making it an ideal flower for adding to wedding décor and bridal bouquets.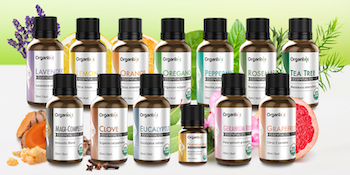 Do Your Essential Oils Pass the "Triple Purity Test"?
Discover How to Protect Yourself and Your Family from the 4 Shocking Ingredients Lurking in Most Oils. The essential oils that are in your home right now could be doing more harm than good. As you're about to find out, it's a chance you probably don't want to take.
Here's Why:
New research shows all essential oils are NOT the same. Believing that they are could deliver very negative consequences. Even worse, the less-than-pure ingredients being found in some oils could completely eliminate their health benefits altogether and could even leave you worse off than when you started!
>>Click Here To Learn More And Find Out About Organixx Essential Oils