How To Say "I Love You" With Flowers: Most Romantic Flowers
Aside from being used to honor the dead and perform religious ceremonies, beautiful flowers are most commonly given as gifts to romantic partners. Even if you have never spoken to your crush or it has been decades since you have seen a former flame, the right bouquet of love flowers sends a clear message. Make the most of the space in the vase by mixing and matching flower options that whisper a message of romance to any kind of lover.
Victorian Era Romance
The Victorians were not the first people to use flowers for communication, but they did refine it to such an art that the meanings are still in use today. Nearly all of the most popular wedding flowers and first date bouquets are based on the preferences of the people that developed the classic Language of the Flowers. Of course, this culture focused on the flowers available to them at the time — which includes tulips and old fashioned roses, but no Bleeding Hearts or other more modern imports to the US and UK.
Family and Platonic Love
You shouldn't just research what flowers mean love for romantic purposes. Telling a family member how much you care for Mother's Day or a birthday requires a different set of platonic love blossoms, including:
Yellow roses, since the cheerful color is not associated with romance
Blooming Acacia, which produces pom poms in bright colors
Ornate orchids, a flower linked to the relationship between mother and child
Purple irises, symbolizing the Virgin Mary and her infinite compassion
Azaleas, especially potted plants your gift recipient can keep growing at home
Sunflowers, which are linked to a sunny personality and loving demeanor
The Flowers of Joining
Of course, you need flowers with a romantic love theme when planning your order at the florists for a wedding. Whether you prefer understated arrangements or explosive bouquets, the same basic components work together in almost endless combinations. Red, pink, and purple roses in all configurations show your love off to guests. Forget Me Nots and sprigs of Honeysuckle symbolize the bond between two people lasting for eternity to come. Rose of Sharon also make more subtle and artistic wedding arrangements. White and Red Tulips light up the tables while creating the right atmosphere.
Do you want to have more success and joy in your life?
The best way to do this is by learning more about your name through numerology. It is a 4,000 year-old science that can help you learn the meaning of your name, because your name was no accident! All it takes is your name and date of birth,
click here to get your free personalized numerology reading.
Valentine's Day Blossoms
Tired of choosing the same dozen of red roses for Valentine's Day gifts every year? Impress your date or spouse with a more creative design. If you're not that well acquainted with the person yet, try a bundle of lilacs for their sweet scent that represents longing and the early stirrings of love. Alstroemeria shines in a vase when you want a gift for a friend or stranger without an overwhelming romantic message. Hydrangeas in pink and purple indicate your excitement for spending the day with your date, while Carnations communicate your fascination and desire to get to know someone. Finally, bold red Amaryllis blooms send a sign of romantic love with a more modern look than roses can offer.
Top Three Choices
If you only have a small budget or want to create a bouquet with a singular focus, consider the top three most romantic flowers. In order of popularity:
Roses. A red rose might be a cliche, but they remain the most widely used flower on Valentine's Day and weddings for a reason.
Tulips. With a wider range of colors and cute petal options, you can say a lot about love with these common flowers.
Ruffled and pastel colored Peonies. The lush look of the blooms makes a Peony bouquet an affectionate gift.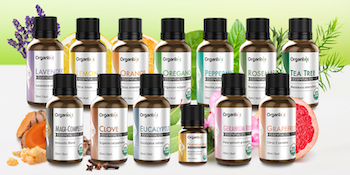 Do Your Essential Oils Pass the "Triple Purity Test"?
Discover How to Protect Yourself and Your Family from the 4 Shocking Ingredients Lurking in Most Oils. The essential oils that are in your home right now could be doing more harm than good. As you're about to find out, it's a chance you probably don't want to take.
Here's Why:
New research shows all essential oils are NOT the same. Believing that they are could deliver very negative consequences. Even worse, the less-than-pure ingredients being found in some oils could completely eliminate their health benefits altogether and could even leave you worse off than when you started!
>>Click Here To Learn More And Find Out About Organixx Essential Oils