The Peony Flower, Its Meanings and Symbolism
The Peony's thick ruffled blooms and ability to return spring after spring for 100 years or longer gives it magical qualities to the gardener and floral enthusiast alike. This iconic flower has become a major cultural tradition in some countries, while other people consider it unlucky or a sign of shame. Dive into the deeper meanings of the Peony before you send this flower to a friend or loved one.
What Does the Peony Flower Mean?
The Peony is mainly known for representing ideas and values like:
Honor, especially for people who are bringing honor to their entire family through success
Wealth and riches
Romance and romantic love, with a particular focus on love between two strangers
Beauty in all forms
Bashfulness and shame
Etymological Meaning of the Peony Flower
The Peony is best known by its scientific name, Paeonia. This is only the name of the genus – individual varieties of Peony feature different individual Latin names. The Peony takes its name from the mythological Greek character Paeon, who studied with the god of medicine known as Asclepius. Zeus had to transform the student into a beautiful flower when he showed more promise than his teacher and incurred his wrath.
Symbolism of the Peony Flower
The Peony is most important in Chinese culture. This stunning flower is an official emblem of China, and it plays a big role in many holidays and religious traditions. It's the flower with the longest continual use in Eastern culture, and it's tied in deeply with royalty and honor in those societies. The Chinese name for Peony even translates to "most beautiful". Oddly enough, it has somewhat of an opposite meaning to Western individuals. Greek myth says that nymphs used to hide their naked forms in Peonies to shield them from prying eyes. This led to the association of Peonies with shamefulness and bashfulness during the Victorian era. It was considered downright unlucky to dig up a shrub of Peony during the Middle Ages due to associations with less than kind fairies.
The Peony Flower Facts
As an enduring symbol of honor and wealth in Eastern culture, it's no wonder this flower has been cultivated and bred in China and Japan for hundreds of years. The plant is mainly grown by separating root masses and only sometimes by seed, so breeding can take years to advance even a few generations. Some types of Peony grow into taller trees with thick stems, while others stay short and in a shrub form. They all produce compact flowers featuring many layers of crimped petals for a beautifully lush look.
Do you want to have more success and joy in your life?
The best way to do this is by learning more about your name through numerology. It is a 4,000 year-old science that can help you learn the meaning of your name, because your name was no accident! All it takes is your name and date of birth,
click here to get your free personalized numerology reading.
Peony Flower Color Meanings
Peonies come in a wide range of colors, and the meaning the flower symbolizes changes relatively little due to the shade or hue. However, there are a few colors that change what the Peony means, including:
Pink: The most romantic form of Peony, making it the ideal color for wedding bouquets and table arrangements
White or Very Pale Pink: Focusing on the bashful aspect of the Peony's meaning, making it a good choice for communicating your regret over embarrassing yourself or someone else.
Deep Red: This color is most prized in China and Japan, and has the strongest ties to honor and respect. It's also the most symbolic of wealth and prosperity in those cultures.
Meaningful Botanical Characteristics of the Peony Flower
One particular form of Peony, known as the Paeonia herb, has been a part of Eastern Traditional Medicine for centuries. It's considered a purifying herb used against evil spirits. Traditional Medicine doctors also prescribe it for abdominal pain, urination problems, and general sluggishness. Recent scientific testing into the compounds found in the common Peony show great promise in treating mast cell accumulation, severe antibiotic resistant infections, and inflammatory responses with no direct cause. However, these results all came from purified extracts of the plant, so don't expect the same results if you try ingesting Peony bark on your own.
The Peony Flower's Message Is…
Remember how your actions reflect on yourself and others, and always strive to act honorably and respectfully. Don't be afraid to apologize if you make a mistake, and share your love with others to improve their lives as well.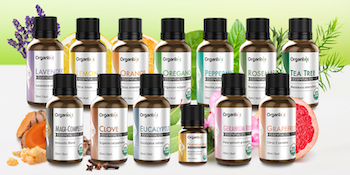 Do Your Essential Oils Pass the "Triple Purity Test"?
Discover How to Protect Yourself and Your Family from the 4 Shocking Ingredients Lurking in Most Oils. The essential oils that are in your home right now could be doing more harm than good. As you're about to find out, it's a chance you probably don't want to take.
Here's Why:
New research shows all essential oils are NOT the same. Believing that they are could deliver very negative consequences. Even worse, the less-than-pure ingredients being found in some oils could completely eliminate their health benefits altogether and could even leave you worse off than when you started!
>>Click Here To Learn More And Find Out About Organixx Essential Oils