Flowers that Represent Death
A flower is a beautiful symbol of life, but those simple petals can also represent peace after death and happiness in the afterlife. Since the Ancient Greeks first started leaving asphodel on the graves of their departed loved ones, there has been a continuous record of funeral flowers you can draw on. Whether you're sending a bouquet to the funeral or a private arrangement of condolence flowers straight to the home of the family, include an extra layer of meaning by using modern and ancient symbolism alike.
Common Western Funeral Flowers
When considering the Western tradition of funeral plants, you must start with the Victorian era flower language. Marigold represented grief and mourning to this group, which is a trait shared in common with many Central and South American countries. Carnations, roses, and even tulips in bright colors were also found at these funerals because most common floral arrangements were tied to the memorial process, especially when they carried love associations.
Blooms For Eastern Memorials
Of course, sending flowers symbolizing grief and sympathy in the Western world to an Eastern family can cause pain and embarrassment for everyone involved. Families from Laos, China, Japan, and other Asian countries tend to prefer the same types of blossoms. Some smart choices include:
Light yellow flowers with peaceful meanings, like the lotus, lily, or orchid
Plain white blossoms featuring may curved petals, such as chrysanthemums and carnations
Larkspurs, foxgloves, or practically any other flower as long as it's white or yellow.
Never send roses or bright red flowers of any kind to an Eastern family in bereavement. This is the color of joy and happiness, so it goes against the mood of a family grieving a loss. You don't need to give flowers native to China or Thailand specifically if they're hard to find in your area, but it is important to get the color meaning right or you risk seriously offending the family receiving your gift.
Modern Sympathy Flowers
Today's families make more eclectic choices when decorating for memorials and funerals. It's always appropriate to choose the favorite flowers of the person who passed away in honor of their life and memory. Stargazer lilies have become very popular in the last few decades for people looking for something new. These bold blooms are speckled with bright colors, but still look graceful and peaceful when arranged around a coffin. The white peace lily has also enjoyed three or four decades of association with funerals and sympathy. It's usually given as a living potted plant instead of a trimmed bouquet. Many people are turning to Buddhist or other spiritual traditions too for inspiration, leading to the widespread use of orchids and lotuses at modern funerals across the globe.
Do you want to have more success and joy in your life?
The best way to do this is by learning more about your name through numerology. It is a 4,000 year-old science that can help you learn the meaning of your name, because your name was no accident! All it takes is your name and date of birth,
click here to get your free personalized numerology reading.
Blossoms That Work Well For Men
Anything that combines contrasting foliage with subtle flowers is appropriate for a more masculine memorial. The peace lily is a good example of this approach, as well as laurel and magnolia arrangements with leaves worked into the design. Wreaths with white compact blooms like peonies and carnations are simple enough to add beauty to the funeral without distracting from the rest of the service. Even if your loved one wasn't the kind of person who enjoyed flowers, it's customary to include at least one shaped arrangement that can be placed on or near the grave after the memorial service.
Unusual Funeral Flowers
Don't be afraid to branch out if you're celebrating the life of an artistic or creative person. Some unusual funeral flower ideas include:
Dyed roses and carnations with rainbow, multicolored, or even black petals
Greenery with attractive leaves and stems instead of traditional blossoms
Custom foam block arrangements in the shape of a football, dog, or even a skull
Large and eye-catching flowers like the bird of paradise, giant gladiolus, and three foot tall spikes of lupine.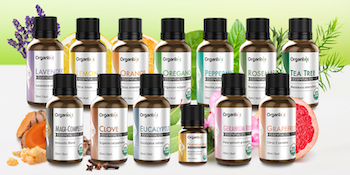 Do Your Essential Oils Pass the "Triple Purity Test"?
Discover How to Protect Yourself and Your Family from the 4 Shocking Ingredients Lurking in Most Oils. The essential oils that are in your home right now could be doing more harm than good. As you're about to find out, it's a chance you probably don't want to take.
Here's Why:
New research shows all essential oils are NOT the same. Believing that they are could deliver very negative consequences. Even worse, the less-than-pure ingredients being found in some oils could completely eliminate their health benefits altogether and could even leave you worse off than when you started!
>>Click Here To Learn More And Find Out About Organixx Essential Oils