Dahlia Flower: Its Meanings & Symbolism
When it comes to building a bouquet that really stands out, the Dahlia is a reliable addition because its multi-layered petals add a lot of body and beauty to an arrangement. They're also easy enough to grow that they've become a common bedding plant at nurseries in the US and Europe alike. Explore what the Dahlia means under the surface by learning about it as a symbol.
What Does the Dahlia Flower Mean?
The common Dahlia symbolizes
Staying graceful under pressure, especially in challenging situations
Drawing upon inner strength to succeed
Traveling and making a major life change in a positive way
Standing out from the crowd and following your own unique path
Staying kind despite being tested by certain life events
Finding a balance between adventure and relaxation
Commitment to another person or a certain ideal
Warning someone about a potential betrayal.
Of course, the meaning of an individual Dahlia bloom is also dependent on its color.
Etymological Meaning of the Dahlia Flower
Dahlia is the name of the genus of these flowers, making it easy to refer to the entire group at once. The source of the name is highly contested. An original story claimed that Carl Linnaeus named the flower after a student with the last name of Dahl, but Linnaeus himself died before the flower was named. It's unclear where the name actually originated, and some scientists have unsuccessfully tried to change the genus name to Georgina.
Symbolism of the Dahlia Flower
The Victorians used the Dahlia to signify a lasting bond and commitment between two people, but modern flower lovers can also buy a potted plant as a celebration of joining a new religion or trying a new healthy habit. Dahlia is often considered a birth flower for August, but some traditions use it as a November birth flower instead. It's the national flower of Mexico because that it's native habitat. Some cultures use it to represent diversity since each petal fits seamlessly into the whole head.
The Dahlia Flower Facts
The wild Dahlias originally grew in Mexico and other South American countries, primarily in mountainous valleys that were protected from harsh conditions in the spring and summer. They're known for standing for quite a while, making a beautiful display in a vase or in the ground. Some varieties produce flowers up to 12 inches in diameter, and the plants themselves can reach up to six feet high.
Do you want to have more success and joy in your life?
The best way to do this is by learning more about your name through numerology. It is a 4,000 year-old science that can help you learn the meaning of your name, because your name was no accident! All it takes is your name and date of birth,
click here to get your free personalized numerology reading.
Dahlia Flower Color Meanings
Dahlia flowers are best organized by their color meaning variations. The most popular colors are
Red, which conveys power and strength to the person receiving the flower as a gift
Pink and purple, two of the colors associated with kindness and grace
White, a symbol of staying focused and pure
Blue and green, perfect for occasions involving fresh starts and big changes
The black Dahlia, which is actually a burgundy color tied to a warning of betrayal
Meaningful Botanical Characteristics of the Dahlia Flower
The Dahlia is related to Sunflowers and Asters, but it's not edible or used for medicinal purposes. The tubers are somewhat poisonous, so make sure you plant them deeply and keep pets and children away from the plants.
The Dahlia Flower's Message Is…
Celebrate what makes you different. Seek out the new pleasures in life and keep moving through the challenges instead of letting them hold you back. Discover what the world holds for you, and watch out for pitfalls along the way.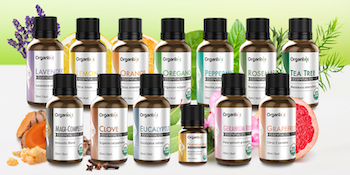 Do Your Essential Oils Pass the "Triple Purity Test"?
Discover How to Protect Yourself and Your Family from the 4 Shocking Ingredients Lurking in Most Oils. The essential oils that are in your home right now could be doing more harm than good. As you're about to find out, it's a chance you probably don't want to take.
Here's Why:
New research shows all essential oils are NOT the same. Believing that they are could deliver very negative consequences. Even worse, the less-than-pure ingredients being found in some oils could completely eliminate their health benefits altogether and could even leave you worse off than when you started!
>>Click Here To Learn More And Find Out About Organixx Essential Oils