Each month of the year is associated with a specific flower called the flower of the month or the birthday flower. Each month also has an alternate birth flower. Both the rose and the honeysuckle are considered the birth flower for those born in the month of June.
How Were the Flowers of the Month Chosen?
No one knows for sure how the flowers of the month began, but it is believed to have come from the Ancient Romans who celebrated births and birthdays with a gift of seasonal flowers. Over time, specific flowers that typically bloom in the birth month were chosen as the universal birth flowers for the months.
Symbolism and Flowers of the Month
Some believe that a person adopts the characteristics of the flower for the month he is born in. In the case of June, the beautiful rose is delicate, yet is capable of protecting itself with its thorns. It symbolizes love, devotion and passion. It is also highly fragrant and is the preferred flower to express your love for another. The color, of course, can alter the meaning with deep reds signifying passion, while soft pinks represent motherly love.
Likewise, the honeysuckle is a symbol of everlasting love, happiness and a sweet disposition. According to ancient beliefs the fragrance of the honeysuckle bloom inspires dreams of love and passion. Bringing a honeysuckle plant in bloom into the home was seen as a sure sign that a wedding would soon take place in the home.
June is the Month for Celebrations
It's no wonder June is traditionally the month of weddings. With its two flowers both symbolizing love, joy and happiness one need only to take advantage of the June flower in bridal bouquets and wedding arrangements. Whether you are planning a wedding or other June celebration, choosing the June flowers with fill the room with fragrance and beauty that symbolizes love and devotion.
Facts About Roses
Roses are one of the most popular florist flowers, but they can also be grown in the home garden. With between 100 and 150 species of these elegant flowers, the blooms come in all sizes and shapes and range from pure white and pastels to brilliant pink, red, yellow and orange. In fact, some roses are so deep red that they are nearly black. Consider these interesting facts about roses:
The oldest rose fossil dates back 35 million years.
The Egyptians considered the rose a sacred flower and gave it in offerings to the goddess Iris. They also used them in funeral wreaths.
The Sumerians mentioned roses in a cuneiform tablet in 2860 BC.
Roses are grown on every continent.
The Netherlands leads the world in rose exports.
Roses are used in perfumes and cosmetics.
Do you want to have more success and joy in your life?
The best way to do this is by learning more about your name through numerology. It is a 4,000 year-old science that can help you learn the meaning of your name, because your name was no accident! All it takes is your name and date of birth,
click here to get your free personalized numerology reading.
Facts About Honeysuckle
There are about 200 species of honeysuckle plants. The flowers grow on woody shrubs or vines and range in color from white, yellow and pink to red. These fragrant flowers attract hummingbirds and butterflies, filling the garden with color and movement in early summer. Consider these interesting facts about honeysuckle.
Honeysuckle flowers are pollinated by hummingbirds and butterflies.
The ancients used honeysuckle berries to make dye.
A honeysuckle sachet under the pillow is thought to bring pleasant dreams
During Victorian times, honeysuckle was planted by the front door to keep witches away.
Honeysuckle is used in cosmetics and perfumes.
Which June Birth Flower is Best for Birthday Gifts?
Both the rose and the honeysuckle flower send the message of love. Which you choose depends on the recipient. Roses add an air of sophistication and elegance to the day, while honeysuckle speaks of nature and all its beauty. If your loved one is into gardening, consider giving her a rose bush in her favorite color or a honeysuckle vine to attract butterflies and hummingbirds to the yard. If you can't decide between, give her one of each. Always check that live plants are hardy in your location so your loved one can enjoy them for years to come.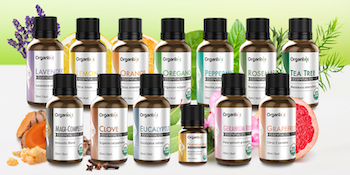 Do Your Essential Oils Pass the "Triple Purity Test"?
Discover How to Protect Yourself and Your Family from the 4 Shocking Ingredients Lurking in Most Oils. The essential oils that are in your home right now could be doing more harm than good. As you're about to find out, it's a chance you probably don't want to take.
Here's Why:
New research shows all essential oils are NOT the same. Believing that they are could deliver very negative consequences. Even worse, the less-than-pure ingredients being found in some oils could completely eliminate their health benefits altogether and could even leave you worse off than when you started!
>>Click Here To Learn More And Find Out About Organixx Essential Oils