The first official Mother's Day began in 1914 when President Woodrow Wilson declared it a national holiday. It was the brainchild of Anna Jarvis who thought our national holidays were biased towards male achievements. Mother's Day was a way to honor the sacrifices mothers make for their children. The original celebration involved wearing a white carnation and visiting your mother on Mother's Day. Since that time, Mother's Day has blossomed into a major holiday that boasts a $1.9 billion a year flower expenditure.
Mother's Day Flowers from Husbands
According to a recent survey conducted by FTD Florist, 20% of husbands give their wives flowers on Mother's Day. That means if your wife is the mother of your children, or has raised other children, you should consider sending her flowers for Mother's Day. It doesn't matter that she is not your mother. Honor her on Mother's Day with a bouquet of flowers to show her how much you appreciate all the work she has done.
Color Matters
Pink is traditionally considered a symbol of a mother's love, but you don't need to stick with pink if you don't want to. Consider these colors and their meanings and combine them to send your message of love.
Pink – Innocence, Unconditional Love, Thoughtfulness and Gentleness
Red – Deep Love and Passion
White – Purity, Truth and Perfection
Yellow – Trust, Compassion and Respect
Purple – Grace and Elegance
Types of Flowers
Carnations are to Mother's Day as roses are to Valentine's Day, but that doesn't mean you can't give other flowers for Mother's Day, too. Consider these flowers and their traditional meanings when choosing flowers for Mother's day.
Roses – Love or Passion
Carnations – A mother's love
Lilies – Purity and Beauty
Daisies – Loyal Love
Calla Lilies – Magnificence and Beauty
Iris – Eloquence and Wisdom
Do you want to have more success and joy in your life?
The best way to do this is by learning more about your name through numerology. It is a 4,000 year-old science that can help you learn the meaning of your name, because your name was no accident! All it takes is your name and date of birth,
click here to get your free personalized numerology reading.
Mixed Bouquets
Mixed bouquets can be designed to express your love with style. In fact, mixed bouquets are the most popular floral arrangement for Mother's Day, probably because they allow you to customize the flowers and color scheme easily. Mixed bouquets range from large showy floral arrangements suitable for centerpieces – or as a showpiece at a social event – to simple arrangements for the table or occasional stand.
Live Plants
While fresh flowers are a popular expression of your love and appreciation on Mother's Day, you can also give live plants. If the mother in your life is a gardener or enjoys houseplants, Mother's Day is the perfect opportunity to present her with live plants or hanging baskets to be summered outside. A special rose bush, or other shrubs allow her to plant them in the garden and enjoy them for years to come. Orchids to be grown as houseplants, dish gardens and tiny terrariums are also a popular choice that bring joy to mom all year long.
Delivery
There is a certain joy in having flowers delivered to her door, but don't overlook the joy of finding you standing at the threshold with flowers in hand. If you plan to visit mom for Mother's Day, you may want to nix the delivery and hand carry her flowers to her. No only will it double her surprise, you will get to see the joy on her face when she opens the door. Other options include having flowers delivered at work to brighten her work day.
Special Considerations
Following rules and guidelines for choosing flowers isn't always the way to mom's heart. Consider her likes and interests when choosing flowers. Nontraditional vases and baskets can make a bold statement and show mom you put some thought into her gift. Consider rustic baskets, mason jars and vintage containers for the mom who enjoys the simple pleasures in life, or go bold and daring with colorful vases and vibrant colors for the mom who adores color. Don't forget to include her favorite flowers in the colors she prefers to make this Mothers Day a special one.
Whether you choose to go with traditional flowers and colors for Mother's Day is a personal choice. Sometimes stepping outside the box and going with a nontraditional arrangement makes the most memorable gift.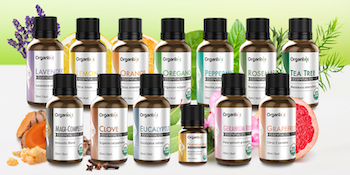 Do Your Essential Oils Pass the "Triple Purity Test"?
Discover How to Protect Yourself and Your Family from the 4 Shocking Ingredients Lurking in Most Oils. The essential oils that are in your home right now could be doing more harm than good. As you're about to find out, it's a chance you probably don't want to take.
Here's Why:
New research shows all essential oils are NOT the same. Believing that they are could deliver very negative consequences. Even worse, the less-than-pure ingredients being found in some oils could completely eliminate their health benefits altogether and could even leave you worse off than when you started!
>>Click Here To Learn More And Find Out About Organixx Essential Oils