When a sudden and unexpected loss leaves a friend or coworker grieving and in bereavement, offering your condolence through the careful arrangement of a sympathy bouquet is a great way to send support. You don't need to search through volumes of obscure flower meanings to send a beautiful and meaningful memorial floral arrangement for a funeral or memorial. If you're searching for the right flowers to combine, try these common symbols of sympathy.
Victorian Symbols of Sympathy
Of course, the Victorians are the ones who first elevated flower etiquette to an art form in the Western world. Bee balm was one of the most popular flowers for expressing sympathy and similar emotions during that time period. It's a common roadside and meadow flower, but the tubular red flowers evoke a simple expression of support. Thrift, or sea pink, was also flower used by the Victorians to send condolences after a loss.
Asian Flowers For Funerals and Memorials
Trying to send the right message to an Asian family facing bereavement? The best options for floral gifts include:
White mums, also known as chrysanthemums, since white is the color most commonly associated with grieving and the afterlife
Yellow chrysanthemums, or possibly carnations if mums aren't available at the time
White and pale colored orchids, representing the class and high standing of the person who has passed on
Light pink lilies and lotuses, as long as the shade is toned down and not brightly cheerful.
Avoid any red flowers or even orange shades. Red is the color of happiness and good luck for many Asian cultures, so sending this kinds of plants to a funeral or grieving family sends the wrong message entirely.
Modern Flowers For The Bereaved
Many people don't ascribe to particular traditions or beliefs, making it a little harder to choose an appropriate floral gift. Turn to the most modern interpretations for more inspiration. Most family members stick with the basic peace lily, also commonly used for decorations and gifts around Easter, to represent a wish of peace for the affected survivors. Carnations make an ideal memorial flower because of the sweet scent and the long lasting blooms.
Do you want to have more success and joy in your life?
The best way to do this is by learning more about your name through numerology. It is a 4,000 year-old science that can help you learn the meaning of your name, because your name was no accident! All it takes is your name and date of birth,
click here to get your free personalized numerology reading.
Sympathy Flowers For Divorce and Other Occasions
If the sympathy is for a less serious occasion than a death or similar loss, consider slightly more cheerful flowers. Snapdragons in bright colors send a message of both sympathy and sincere encouragement for bravery and confidence. Hydrangeas are easily transplanted in the garden after a few months in a pot, illustrating a metaphor about rising from the ashes of loss. Daffodils and tulips also work for these kinds of events because they're always the first to return in the spring, no matter how the winter.
What To Write On Sympathy Flowers
Choosing a clear and concise message for your bouquet is the key to making the right statement of sympathy. Try a few ideas like:
Short statements about how the bereaved individuals are in your thoughts
Expressions of how your relationship with the person who passed on enriched your life
Offers to help with work or home challenges, but only if you can follow through
Skip the trite statements or overly elaborate attempts to express how you feel. It's better to only include a sentence and sign your name rather than create a long letter the recipient has to read while trying to organize a dozen other similar floral arrangements. Leave the long conversations for visits with the person or write a second letter to follow up a few weeks later if you feel motivated.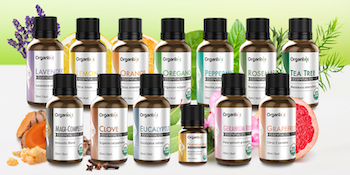 Do Your Essential Oils Pass the "Triple Purity Test"?
Discover How to Protect Yourself and Your Family from the 4 Shocking Ingredients Lurking in Most Oils. The essential oils that are in your home right now could be doing more harm than good. As you're about to find out, it's a chance you probably don't want to take.
Here's Why:
New research shows all essential oils are NOT the same. Believing that they are could deliver very negative consequences. Even worse, the less-than-pure ingredients being found in some oils could completely eliminate their health benefits altogether and could even leave you worse off than when you started!
>>Click Here To Learn More And Find Out About Organixx Essential Oils