Baby Breath Flower: Its Meanings & Symbolism
For years in the early 1990s, florists tucked delicate sprigs of baby's breath into practically every bouquet and vase arrangement they made. While this delicate and inspiring flower is less commonly used now to preserve its beauty instead of overwhelming buyers, you can still put it to good use as a complex symbol. Read up on what the common baby's breath means to gain a new appreciation for an old standby.
What Does the Baby Breath Flower Mean?
Many people have marveled at the baby's breath peeking out of their corsage without knowing the deeper meaning behind it. These bright white dots symbolize
Everlasting and undying love, including family, platonic, and romantic bonds
Pureness and freedom from outside influences or corruption
The power of the Holy Spirit in Christian faith
Innocence
Newborn babies of either gender
Reconnecting with lost loves or disconnected family members
Self discipline and the ability to stay focused on love.
Etymological Meaning of the Baby Breath Flower
The flower we commonly call the baby's breath is better known as the Gypsophila family. While you likely know the bright white variety best, there are pink and faintly yellow types too. The name is derived from the fact that all the flowers in this family thrive on soil high in gypsum, a mineral that makes the soil too thick and heavy for many other types of plants.
Symbolism of the Baby Breath Flower
Most people know the baby's breath flower as the iconic symbol of long lasting love because it's commonly used to round out wedding bouquets and centerpieces. The tiny white flowers represent the purity of emotion that two people should have for each other during a wedding ceremony. Aside from marriage connotations, the baby's breath is also tied to babies in an obvious way. It's traditional to give new mothers floral arrangements featuring at least one or two sprigs of this plant. Self discipline and fidelity is a modern meaning for this classic flower.
Baby Breath Flower Color Meanings
White is the most widely sold color in floral shops, but the wild varieties of Gypsophila show a greater diversity in color. If you manage to find natural or tinted pink baby's breath, use it for celebrating the birth of infant girls or sending a delicate message of affection to a crush. Butter yellow types bring a color meaning of light and joy to the wedding design or vase arrangement. You can likely find this flower in a wide range of artificial colors if you visit a supplier that tints the plants with liquid color sprays.
Do you want to have more success and joy in your life?
The best way to do this is by learning more about your name through numerology. It is a 4,000 year-old science that can help you learn the meaning of your name, because your name was no accident! All it takes is your name and date of birth,
click here to get your free personalized numerology reading.
Meaningful Botanical Characteristics of the Baby Breath Flower
This flower symbolizes plenty, but it's also useful in other ways. New research shows that it contains compounds that may boost the power of leukemia fighting medications, while herbal specialists rarely use it. You can eat the root after baking it slowly to reduce the saponins that make it too bitter to eat, but it still doesn't taste very good.
Special Occasions for the Baby Breath Flowers
Include baby's breath in your
Wedding arrangements
Baby shower gifts
Bouquets for children and other innocent individuals.
The Baby Breath Flower's Message Is…
The Baby Breath flower's message is stick with your loved ones and show them your dedication. Stay dedicated to your cause and remember the power of innocence.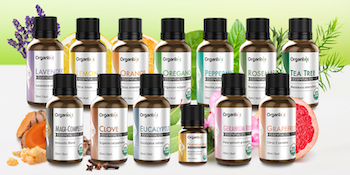 Do Your Essential Oils Pass the "Triple Purity Test"?
Discover How to Protect Yourself and Your Family from the 4 Shocking Ingredients Lurking in Most Oils. The essential oils that are in your home right now could be doing more harm than good. As you're about to find out, it's a chance you probably don't want to take.
Here's Why:
New research shows all essential oils are NOT the same. Believing that they are could deliver very negative consequences. Even worse, the less-than-pure ingredients being found in some oils could completely eliminate their health benefits altogether and could even leave you worse off than when you started!
>>Click Here To Learn More And Find Out About Organixx Essential Oils