Anthurium Flower: Its Meanings & Symbolism
Arum family of plants includes over 1000 species of plants commonly referred to as anthuriums. They range is size, shape and color, but are similar in appearance and use. The anthurium flower produces heart-shaped blooms that range in color from green or white to shades of pink and brilliant red. These flowers are really modified bracts, called spathes. The actual flower of the anthurium plant are tiny blooms that line the fleshy inner spike called a spadix.
What Does the Anthurium Flower Mean?
This tropical plant adapts to nearly any environment and produces new flowers all year, giving it a reputation as a hospitality plant. But, it has other meanings too.
Hospitality
Happiness
Abundance
Etymological Meaning of the Anthurium Flower
The anthurium flower derives its name from two Greek words: oura, meaning tail and anthos, meaning flower. Translated the phrase means tail flower, presumably due to the spike in the center of the plant that looks like a tail. Anthurium flowers have several common names often derived from their appearance. They are known as bull's heads, flamingo flowers, tail flowers, painted tongue and cock's comb.
Symbolism of the Anthurium Flower
The anthurium flower is known universally as a symbol of hospitality, as this exotic beauty thrives in nearly any location in the home or office. It requires little care other than watering and occasional fertilizing and tolerates a wide range of light conditions. As a cut flower, the blooms are long-lasting and retain their beauty and form in floral bouquets. They are often used in bridal bouquets or other wedding arrangements. As a potted plant, the anthurium plant symbolizes abundance and happiness to the home. It makes a delightful hostess or housewarming gift for this reason.
Anthurium Flower Color Meanings
Anthurium, like many flowers, takes on the color meaning of all flowers and does not have meaning specific to their color. Tailor your message following the traditional color meaning of flowers and the overall anthurium flower meaning.
Red: Love and Passion
White: Innocence and Purity
Pink: Compassion, Femininity, Motherly Love
Do you want to have more success and joy in your life?
The best way to do this is by learning more about your name through numerology. It is a 4,000 year-old science that can help you learn the meaning of your name, because your name was no accident! All it takes is your name and date of birth,
click here to get your free personalized numerology reading.
Meaningful Botanical Characteristics of the Anthurium Flower
The anthurium plant has been used as a natural or herbal remedy, primarily in steam baths, to ease the discomfort of muscles aches, cramps, arthritis and rheumatism. But, caution must be exercised as these foliage and flowers of the plant contain calcium oxalate crystals which can be irritating to the skin and mucus membranes.
Anthurium flowers are primarily ornamental. While the plants are attractive and easy-to-care for, the cut flowers have a vase life of up to 8 weeks, making them a long-lasting cut flower.
Special Occasions for the Anthurium Flowers
Anthurium flowers are appropriate for nearly an occasion and lend a tropical touch to floral displays. They can be used in wedding décor, for graduations and promotions, or for other celebrations. The flowers are suitable in mixed arrangements and floral displays or all kinds. Although they are not an official birth flower for any month, they are suitable for expressing birthday wishes.The flowers are typically used in mixed bouquets, but can be used singly.
The Anthurium Flower's Message Is…
The anthurium flower's message is one of hospitality and abundance making them an ideal potted plant to present at housewarmings or even at retirement celebrations.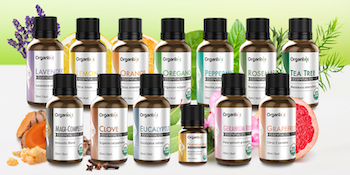 Do Your Essential Oils Pass the "Triple Purity Test"?
Discover How to Protect Yourself and Your Family from the 4 Shocking Ingredients Lurking in Most Oils. The essential oils that are in your home right now could be doing more harm than good. As you're about to find out, it's a chance you probably don't want to take.
Here's Why:
New research shows all essential oils are NOT the same. Believing that they are could deliver very negative consequences. Even worse, the less-than-pure ingredients being found in some oils could completely eliminate their health benefits altogether and could even leave you worse off than when you started!
>>Click Here To Learn More And Find Out About Organixx Essential Oils