The Forget Me Not Flower: Its Meanings & Symbolism
It's easy to overlook a wild clump of Forget Me Not because most plants produce small flowers. However, this humble plant has a rich history of meaning behind it. As a symbol of myth and history alike, it's a worthwhile addition to your flower repertoire. Learn more about what the Forget Me Not symbolizes by taking a stroll down memory lane.
What Does the Forget Me Not Flower Mean?
True and undying love
Remembrance during partings or after death
A connection that lasts through time
Fidelity and loyalty in a relationship, despite separation or other challenges
Reminders of your favorite memories or time together with another person
Growing affection between two people
Honoring the Armenian Genocide
Helping patients with Alzheimer's Disease
Caring for the poor, disabled, and needy
Etymological Meaning of the Forget Me Not Flower
All of the hundreds of flowers in the Myosotis genus can be called Forget Me Nots. This unusual Greek name means mouse's ear, which is a pretty literal description of the shape of the flower's small petals. The descriptive name first came from the German term Vergissmeinnicht. Most stories and myths involving this flower took place in Germany and the surrounding countries, but an English name was in use by the beginning of the 1400 century in the rest of Europe. Despite translation challenges, most other countries use a similar name or phrase to describe the same flower.
Symbolism of the Forget Me Not Flower
Since the Germans coined the most common name used for this flower, it's natural that there's a myth of two lovers walking along the Danube River first seeing the bright blue blossoms. The man retrieved the flowers for the woman, but he was swept away by the river and told her not to forget him as he floated away. Whether the story is true or not, it's certainly made the Forget Me Not a lasting symbol of remembrance. It's also been adopted as a symbol by the Freemasons who faced persecution for their beliefs, and represents the Armenian Genocide that started in 1915. The Alzheimer's Society uses it as an icon to raise awareness for the disease and support for caretakers. While the Forget Me Not has played a big role in Europe and America over the last few hundred years, it's still relatively rarely used in other cultures.
The Forget Me Not Flower Facts
Each variety in the Forget Me Not family produces slightly different flowers, but the main type used for bouquets and flower beds produces small blue flowers with five petals. Careful breeding has produced pink, purple, and white varieties, although they are not as commonly available from florists and nurseries as the classic blue variety. Most types prefer dry conditions and light sandy soils, yet there are varieties that can thrive in any kind of garden or yard.
Do you want to have more success and joy in your life?
The best way to do this is by learning more about your name through numerology. It is a 4,000 year-old science that can help you learn the meaning of your name, because your name was no accident! All it takes is your name and date of birth,
click here to get your free personalized numerology reading.
Forget Me Not Flower Color Meanings
The Armenian Genocide Forget Me Not, which symbolizes the millions of people killed during the early 1900s, is designed with purple petals. Both light and dark blue follows connect most strongly with the remembrance and memory meanings, while a white Forget Me Not can be given as a symbol of charity or care for the less fortunate. Pink varieties usually work best for situations between spouses or romantic partners.
Meaningful Botanical Characteristics of the Forget Me Not Flower
The Forget Me Not is poisonous, so it's best use as a symbol rather than a snack or treatment because it causes liver cancer and damage. Some historical and unproven uses of the plant include:
Powdered leaves and flowers for stopping bleeding
Teas and tinctures used as eye washes for pink eye and styes
Infused into salves for treating itchy skin and irritations
Packed into capsules for preventing nosebleeds
Taken as a tea or capsule for a variety of lung problems
The Forget Me Not Flower's Message Is…
Take the time to remember those you love, even if they're still with you right now. Make memories that last and extend your caring to those that need it the most. Respect the dead and make sure their stories are still being told to future generations.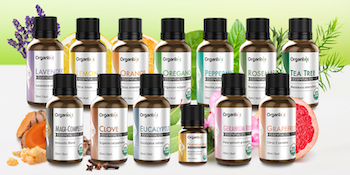 Do Your Essential Oils Pass the "Triple Purity Test"?
Discover How to Protect Yourself and Your Family from the 4 Shocking Ingredients Lurking in Most Oils. The essential oils that are in your home right now could be doing more harm than good. As you're about to find out, it's a chance you probably don't want to take.
Here's Why:
New research shows all essential oils are NOT the same. Believing that they are could deliver very negative consequences. Even worse, the less-than-pure ingredients being found in some oils could completely eliminate their health benefits altogether and could even leave you worse off than when you started!
>>Click Here To Learn More And Find Out About Organixx Essential Oils