Funeral Flowers & Their Meanings
Funeral flowers serve as a final tribute to the life of the deceased and bring comfort to the mourning. While some flowers, like lilies, mums and roses are commonly associated with funerals, nearly any flower is appropriate for funeral flowers, as long as you observe cultural etiquette.
Types of Funeral Flower Arrangements
There are several types of funeral flower arrangements to choose from. Which you choose depends on the circumstances and your relationship to the dearly departed.
Casket Sprays or Coverings: This funeral flower arrangement it typically reserved for the family of the deceased person. Before you purchase a casket spray or covering, speak to the family to find out if it is okay.
Funeral Wreaths and Crosses: These large floral arrangements are typically reserved for large groups, such as associations the deceased belonged to or a group of co-workers or business associates.
Floral Tributes: These floral arrangements are often from individuals or families and may contain the deceased person's favorite flowers or symbolize his interests. These are generally more personal than corporate or business displays. For example, they may include unusual funeral flowers that the deceased enjoyed, or incorporate sports and leisure themes to tailor the funeral flowers for men.
Baskets & Plants: Floral baskets or decorative containers filled with living plants pay tribute to the deceased while leaving behind a living reminder of their lives. This funeral arrangement may be sent to the home of the mourning or displayed at the service and taken home afterward.
Are Funeral Flowers and Sympathy Flowers the Same?
Sometimes friends and associates prefer to send flowers to the home of the grieving family. These flowers are called sympathy flowers and differ from funeral flowers. Sympathy flowers are smaller and are intended to be displayed on an end table or stand. They may be cut flowers or potted plants. Their purpose is to bring peace and comfort to the mourning family. Although it is not required, many send sympathy flowers in addition to funeral flowers, especially if they were close to the family.
Do you want to have more success and joy in your life?
The best way to do this is by learning more about your name through numerology. It is a 4,000 year-old science that can help you learn the meaning of your name, because your name was no accident! All it takes is your name and date of birth,
click here to get your free personalized numerology reading.
Cultural Etiquette
Not all cultures deal with death in the same way. Knowing the different cultural practices and expectations means you can avoid accidental offenses during this difficult time.
Protestant – Lutheran, Methodist, Presbyterian, Episcopalian and Baptist: These religions have similar practices that focus on the afterlife and celebrate the person's life when he passes away. Flowers of any color or style are appropriate either for the funeral or as sympathy flowers.
Roman Catholic: According to Roman Catholic tradition, flowers should be somber. White roses, carnation or lilies are appropriate, but bright colors are considered offensive.
Jewish: Flowers are not appropriate for a Jewish funeral. Charitable donations are suitable. When paying a visit to the home, fruit and desserts are appropriate, but flowers are not.
Buddhist: In the Buddhist culture, white flowers are appropriate for funerals, but red flowers or food items are considered bad taste.
Hindu: In the Hindu culture, guests are expected to arrive in white clothing bearing neither gifts nor flowers.
Asian: In Asian cultures, such as China and Japan, yellow or white mums are the flower of choice for a funeral.
Mormon: All flowers are appropriate in Mormon funerals, however, they should never be displayed on a cross or contain a cross or crucifix.
Keeping the cultural practice of the family in mind is always important, but beyond that point, the floral arrangement you choose to send is up to you. Ideally, funeral flowers express the personality of the deceased, with small meaningful displays from those closest to them and larger display from large groups.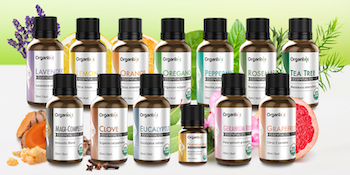 Do Your Essential Oils Pass the "Triple Purity Test"?
Discover How to Protect Yourself and Your Family from the 4 Shocking Ingredients Lurking in Most Oils. The essential oils that are in your home right now could be doing more harm than good. As you're about to find out, it's a chance you probably don't want to take.
Here's Why:
New research shows all essential oils are NOT the same. Believing that they are could deliver very negative consequences. Even worse, the less-than-pure ingredients being found in some oils could completely eliminate their health benefits altogether and could even leave you worse off than when you started!
>>Click Here To Learn More And Find Out About Organixx Essential Oils