Geranium Flower: Its Meanings & Symbolism
The mention of geraniums typically conjures up images of bright red blooms against rich green foliage adorning window boxes and porch railings. You may be surprised to learn that there are hundreds of species of geraniums that range in size, shape and color. The common geranium comes in shades of white, red and pink with many striking bi-colors, too.
What Does the Geranium Flower Mean?
The geranium flower appears to have some conflicting meanings, which means you must rely on both the circumstances and their color to refine their meaning. Some of the most common meanings are:
Folly or Stupidity
Gentility
Ingenuity
Melancholy
Bridal Favor
Unexpected Meeting
Expected Meeting
Preference
True Friendship
Etymological Meaning of the Geranium Flower
The common name geranium has an interesting history. Common geraniums belong to the genus Pelargonium, while true geraniums belong to the genus geranium, which includes the crane's bill geranium, a similar but different plant. Both belong to the family Geraniaceae. While both genera were originally classified as geraniums, in 1789 the two genus were separated. The common name geranium has continued to be used to describe both pelargoniums and geraniums. The name geranium comes from the Greek word geranos meaning crane because the seed pods of the plant resembled a crane's bill.
Symbolism of the Geranium Flower
The symbolism of the geranium flower is most commonly associated with the type or color of the geranium. Some common symbolism includes:
Horseshoe Geranium – Stupidity or Folly
Ivy Geranium – Favor
Lemon Scented Geranium – Unexpected Meeting
Oak Leaf Geranium – True Friendship
Geraniums are sometimes considered a birth flower for the Zodiac sign of Cancer.
The Geranium Flower Facts
Most geraniums are native to southern Africa, but some species originated in Australia, New Zealand and the Middle East. They range in height from a mere 12 inches to 6 feet or more in the wild. The common geranium is actually a tender perennial grown as an annual in pots and containers across much of the United States. In northern climates, they can be overwintered inside and set outside again in the spring.
Scented geraniums release a fragrance when their leaves are touched. The most popular scented geranium is often sold as a mosquito plant, as its leaves release a lemon or citronella scent. Research doesn't support the claims that it will repel mosquitoes, but it is an attractive and fragrant plant for summer gardens.
Do you want to have more success and joy in your life?
The best way to do this is by learning more about your name through numerology. It is a 4,000 year-old science that can help you learn the meaning of your name, because your name was no accident! All it takes is your name and date of birth,
click here to get your free personalized numerology reading.
Geranium Flower Color Meanings
For the most part the color meaning of geraniums follows the traditional meanings of flower colors, but there are some exceptions.
White Geraniums – White geraniums were once believed to repel snakes and were planted near homes or areas where snakes were a problem. They also are thought to promote fertility.
Red Geraniums – According to Wicca beliefs, a red geranium planted near the door will warn the occupants of approaching strangers by facing the direction of the stranger. They are also considered a protective flower that symbolizes good health.
Pink Geraniums – Pink geraniums are often used in love spells.
Meaningful Botanical Characteristics of the Geranium Flower
Geraniums are used primarily as ornamental plants. Scented geraniums are often used for fragrance, while geranium oil from the leaves of common geraniums has been used in poultices for help heal wounds. The dried leaves can be used to make a herbal tea, or to make a compress for relieving pain.
The Geranium Flower's Message
The geranium flower's message depends on the situation. As a housewarming gift it may represent friendship or wishes for good health. While its meaning is sometimes contradictory, most Americans view the geranium flower as a symbol of happiness and positive emotions. These flowers are ideal for adding color and scent to window boxes, hanging baskets and container gardens. They are often presented at special occasions such as promotions and retirements.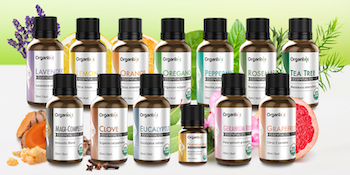 Do Your Essential Oils Pass the "Triple Purity Test"?
Discover How to Protect Yourself and Your Family from the 4 Shocking Ingredients Lurking in Most Oils. The essential oils that are in your home right now could be doing more harm than good. As you're about to find out, it's a chance you probably don't want to take.
Here's Why:
New research shows all essential oils are NOT the same. Believing that they are could deliver very negative consequences. Even worse, the less-than-pure ingredients being found in some oils could completely eliminate their health benefits altogether and could even leave you worse off than when you started!
>>Click Here To Learn More And Find Out About Organixx Essential Oils