Rose Colors & Their Meanings
First emerging 35 million years ago when the world looked a lot different, the beautiful rose has endured as both a tenacious flowering plant and a symbol of many emotions. The gently ruffled petals and enchanting fragrance first attracted humans to the thorny shrub, and those same pleasant features keep people coming back for more. Of course, there is an entire flower language surrounding roses now with its own intricacies to learn. Before grabbing a bouquet at the nearest florist to give as a gift to a loved one, find out how to add another layer of meaning to the present by finding out the answer to "What do the color of roses mean?"
White Roses
Start with the symbolism of the pure white rose. When giving a single white rose, you're communicating appreciation for a long lasting and well-developed love between two people. There's no inherent romantic implications with this color of rose, so feel free to give white flowers to friends and family members too. A whole bouquet of creamy white blooms is perfect for celebrating the purity and innocence of a child. It's this purity that makes it a popular flower for both weddings and funerals too.
Blue and Purple Roses
Aside from some recent genetically modified plants, roses can't produce blue pigments. This means that the vibrant blue roses and purple blooms you find at the florist are all dyed. Don't let that fact detract from their meanings, which include
Royal blood or a royal demeanor
Attaining the impossible
Mystery and rarity
Imagination and a magical outlook on life.
You can even dye your own roses purple and blue, although you won't get the same vibrant colors as the professionals achieve due to the dyes they use. A little food coloring in some water sends the dye shooting up the stem as the cut white rose absorbs water, leading to colored petals after a day or two.
Pink and Red Roses
As you reach the petals colored with the warmer parts of the spectrum, a definite link with passion and romantic love settles in. Each particular shade of red and pink carries a slightly different romantic message, but you need a whole rose color meanings chart just to decipher similar looking colors. Stick with deep red for passionate and requited love, and a lighter pink for young love and relationships just beginning to bloom. Very light pink is an appropriate color for celebrating motherly love, while striped red and white roses are often used for proposing marriage.
Do you want to have more success and joy in your life?
The best way to do this is by learning more about your name through numerology. It is a 4,000 year-old science that can help you learn the meaning of your name, because your name was no accident! All it takes is your name and date of birth,
click here to get your free personalized numerology reading.
Orange and Yellow Roses
Wondering what color rose means friendship? Go with a warm color that isn't romantic, such as orange and yellow. These cheery blossoms remind your friend of a warm summer day, expressing how much you care about them without sending the wrong message. This color family is also popular for making gifts to family members. If you know someone who is working as hard as possible to achieve a goal, recognize their efforts with a deep orange or gold rose. Bright yellow indicates passion outside of the romance category, such as a passion for helping others or becoming a star. These bouquets work best for congratulating someone on a success or celebrating the arrival of a newborn baby.
Unusual Colors
Of course, the trick of dyeing roses works for colors beyond just purple and blue. While there are a few rare roses bred to produce very dark red flowers that look almost black, true black roses are created by hand. Either way, the black rose symbolizes lost love in popular culture, along with ties to death and mourning. This rose is also commonly found in movies, games, and books about vampires. Green and brown roses look manmade, but these colors are completely natural instead. Green blooms are usually tied to success and new opportunities, while the brown roses are often used as a romantic flower for gifting to men. Other people choose to use brown roses as a non-romantic sign of love and affection, especially among younger and older family members. These roses are rare enough that you can apply your own special meanings to them too.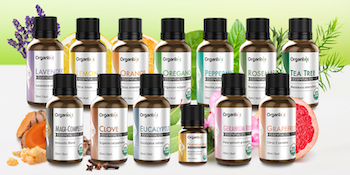 Do Your Essential Oils Pass the "Triple Purity Test"?
Discover How to Protect Yourself and Your Family from the 4 Shocking Ingredients Lurking in Most Oils. The essential oils that are in your home right now could be doing more harm than good. As you're about to find out, it's a chance you probably don't want to take.
Here's Why:
New research shows all essential oils are NOT the same. Believing that they are could deliver very negative consequences. Even worse, the less-than-pure ingredients being found in some oils could completely eliminate their health benefits altogether and could even leave you worse off than when you started!
>>Click Here To Learn More And Find Out About Organixx Essential Oils