What Is Your Birth Flower And Its Meaning?
If you are the type of person to collect jewelry with your birth stone or make bouquets with specific messages, research the tradition of birth flowers. This beautiful set of meanings combines the monthly arrangement of birth stones with the deep layers of meaning associated with flower languages. Despite the popularity of zodiac lists and horoscopes, too many people know nothing about birthday flowers. If you're asking yourself "What is my birth flower?", find the answer below to sate your curiosity.
The Beginning of the Year: January, February, and March
January opens the year with snow and ice, so it's only natural that the carnation is the flower of the month. White and pastel varieties make the rippled and ruffled layers particularly stunning and appropriate for the month. Some people prefer snowdrop instead because it blooms during the month in a few areas. Flowers for February all include common purple violets, bold iris blooms, and elegant primrose. March birthdays are linked to daffodils across both the US and UK because their cheerful flowers pop up during this part of the early spring.
Heading Through Spring: April and May
As temperatures warm up in April, the tantalizing smell of sweet pea blossoms greets those with birthdays in the month. This flower is connected with a youthful energy and outright pleasure. May birthdays are associated with Lily of the Valley instead. While this flower is poisonous, it's also stunning and offers a beautiful scent when given as a bouquet or planted in the landscape. The rarity of this flower also makes it a special gift as a birth flower.
The Heat of Summer: June, July, and August
The passion and heat of summer creates a connection between all colors of roses and June birthdays. Tea roses and newer Knockout varieties make an impressive birthday gift. In contrast, the July birth flower is either a water lily or a larkspur. Both are graceful but delicate, lending a fickle quality to them. Born in August instead? Your flower is the gladiolus, which has a strong meaning of integrity and honesty. Gladiolus come in such a variety of colors that you can use those secondary meanings to tailor the bloom to your loved one's personality too.
Do you want to have more success and joy in your life?
The best way to do this is by learning more about your name through numerology. It is a 4,000 year-old science that can help you learn the meaning of your name, because your name was no accident! All it takes is your name and date of birth,
click here to get your free personalized numerology reading.
Cooling with Fall: September and October
When summer comes to an end, the color palette for birthday flowers start to change. Anyone celebrating a September birthday will appreciate the gift of dainty asters. Forget Me Nots and morning glories also connect with this month, and all three flowers have a connection with magic and fairies. October is only linked with a single flower – the marigold or Calendula. These bright orange and yellow blooms are used for honoring the dead in many North and South American cultures, but they also make a flavorful tea and brighten up the garden in the fall.
Born During Winter: November and December
Winter doesn't sport an abundance of flowers outdoors, but hothouse gardeners can still enjoy the gift of blooms. The winter birth flowers are:
For November: The chrysanthemum, a symbol of friendliness and good cheer.
For December: The poinsettia, holly, or daffodil variety known as a narcissus. All three are grown indoors during the winter and make easy gifts, even for inexperienced gardeners.
Birth flowers are inspiring gifts. If your recipient doesn't know anything about birth flowers yet, you can always attach a card with a quick explanation of the tradition and the meaning of the specific flower. Choose a color and arrangement style based on the preferences of the person receiving the hanging basket or vase bouquet.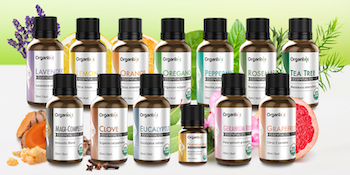 Do Your Essential Oils Pass the "Triple Purity Test"?
Discover How to Protect Yourself and Your Family from the 4 Shocking Ingredients Lurking in Most Oils. The essential oils that are in your home right now could be doing more harm than good. As you're about to find out, it's a chance you probably don't want to take.
Here's Why:
New research shows all essential oils are NOT the same. Believing that they are could deliver very negative consequences. Even worse, the less-than-pure ingredients being found in some oils could completely eliminate their health benefits altogether and could even leave you worse off than when you started!
>>Click Here To Learn More And Find Out About Organixx Essential Oils